»

Yule Moon Fae - Exclusive FAE Fayble by Armorel Hamilton
Yule Moon Fae - Exclusive FAE Fayble by Armorel Hamilton
The adorable one-of-a-kind 'Yule Moon Fae'.
£200.00
Comes complete with her tiny sleigh! Plus the secret recipe for the snow will be revealed upon purchase!
She's looking for her forever home, could it be with you? We think she will fly very soon…
"She is filled with the spirit of giving … she looks after the first Christmas morning star" – Armorel, Mother of Faybles.
Yule Moon FAE comes with a free limited edition Fayble calendar for 2019! :)
Fayble Calendar 2019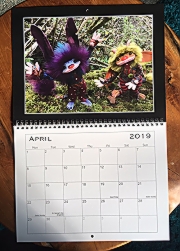 Details:

Yule Moon FAE is 5″ high.
Related Products
This limited edition Faybles 2019 Calendar by Armorel Hamilton will bring the fun and magic of the Faybles into your home all year round!

£9.99
Featured Products